June 20, 2012
"Under promise and over deliver.. "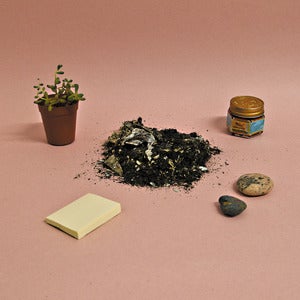 OK, I as Matt from Electric Voice pointed out via a txt message this morning.. I lied. Grand Trine's last official release is an original song "NEANDERTHAL MAN" which is being release on the very cool Electric Voice DOUBLE LP Compilation featuring us and Ariel Pink, R. Stevie Moore, Roland S. Howard (R.I.P), Jeff & Jane Hudson, d'Eon, Automelodi, Femmineli & many others. How cool is it to share a release with Jeff & Jane + Roland S. Howard??? I don't know. That's bananas to me. 
It started shipping today. Limited to 500. Someday it's definitely gonna end up in the strange rare record Hall of Fame aka Ebay. It's quite the ambitious art project for young Mr. Samways. Congrats to him for making it real.
So there's two new GT records out within a month now that we're dead after years of spinning our tires and releasing very little. I don't claim to understand how the world works.    
- Tobias
""
× ariel pink r. stevie moore grand trine roland s. howard electric voice bananas d'Eon jeff and jane hudson record collector fetish material automelodi canada neanderthal man January 16, 2012
Happy New Year! (2 weeks too late)
I guess we forgot to mention that Bathetic Records+ William Cody Watson + Alex Zhang Hungtai have put together a concept compilation featuring the crew (our underground friends/family/extended family). 
It's a free download that has been passed around the internet a lot this past week. It even scored album of the week in the Montreal Mirror.
Interesting factoid: The cover art was shot by Alex on Mulholand Drive in California. 
Tracklist:
1. Dirty Beaches - Expressway I
2. Grand Trine - Here Comes The Night
3. Cough Cool - Treal Impala
4. Hot & Cold - Distant Lights
5. Lee Noble - Retreat, Abandon
6. Femminelli - Hotel Suite
7. Xander Harris - When The Dark Was Fed
8. Lantern - Where Are We Now?
9. Ela Orleans - Night Wars
10. Wet Hair - On Edge
11. Tonstartssbandht - Dad Beating Up Dudes (Orlando 1992) 
12. Hobo Cubes - Meditation After Murder (Midnite Drive To The Ocean)
13. William Cody Watson - Hand On My Knee
14. Speculator - Picking Flowers
""
× dirty beaches grand trine cough cool hot and cold wet hair tonstartssbandht william cody watson femminelli lantern hobo cubes ela orleans lee noble xander harris November 7, 2011
ANNOUNCEMENT:
We are pleased to announce our next release is a 45" dedicated to the music of my estranged father. It will be out soon thanks to ALMOST READY RECORDS in Brooklyn, NYC. The Bohemians were a band who would later turn into the much more known & loved Montreal group The Haunted. They were apparently the first group in Montreal to grow their hair long. Our cover of the B-side "Say It" has been floating around the internet for about a year but this release will also feature Shub & I doing our interpretation of "I Need You Baby" on the A-side. We took a few more liberties with this new cover and it sounds pretty messed up and crazy. I have been listening to the original single since I was a kid and it means a lot to me have an opportunity to pay homage to it. Pre-order info soon!
""
""
September 14, 2011
× montreal, craft singles, grand trine electric voice
""
August 9, 2011
Citizen Vintage: Citizen Q & A with Dirty Beaches, Grand Trine and Lantern: Part IV
We'll post some news in the next week or so. Including: New 7inches, new cassette singles, new videos, new-lineup and our return/debut show at this year's Pop Montreal Festival! 
In the meantime, enjoy the lighter side of fashion:
What is your favorite occasion to dress for?

Alex: Fuck, that's a really hard one. Everyday life. Cause I love life.

Shub: Open casket wakes!

Zachary: The obvious answer is when I perform, but I like to dress up. I want to do that more…




Alex Zhang Hungtai is the mastermind…
× montrea vintage citizen vintage dirty beaches grand trine lantern
""
August 5, 2010
× end times grand trine new song
May 1, 2010
""